22 Dic 2016
Barcelona, December 12, 2016 – Last December 9th in Cologne, Germany took place a forum on ICT standards for SMEs. The objective was to discuss about how SMEs can make strategic use of standardization: the benefits of investing in standardization and the opportunities for new business models.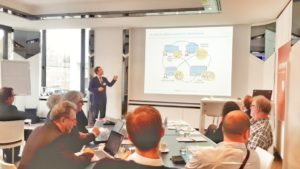 Fractus together with Ericsson, Qualcomm and the European Commission were invited to share its business model and its past experience.
The SBS Forum is organized by the European DIGITAL SME Alliance ("DIGITAL SME"), the SBS member association representing SMEs in the ICT sector. DIGITAL SME is the largest European network of digital SMEs. Its members are national associations or clusters of digital SMEs and represents more than 20.000 digital SMEs in 18 countries.
To learn more about the event, please click here.